9-1-1 Texting Available in Montgomery County
Wireless phone customers in Montgomery County have the ability to send short text messages to 9-1-1 in an emergency. Text-to-911 may be most helpful to individuals who have speech or hearing impairments, or who are having a medical emergency that renders them incapable of speech. It is also helpful in cases when making noise may endanger the caller, such as a home invasion/robbery, or instances of domestic violence or abduction. At this time, Text-to-911 is only available to subscribers of AT&T, Sprint, Verizon Wireless and T-Mobile. Learn more about how and when to text 911 here.
CALLING 9-1-1 FOR AN EMERGENCY IS STILL THE PREFERED CONTACT METHOD
Emergency Alert Notification System
Register to receive Montgomery County emergency alert information via e-mail, home phone, cell phone, pagers, and more. Montgomery County uses the Everbridge Notification System (also known as ReadyMontco) to immediately contact you during a major crisis or emergency. View for more information.
Police
Physical Address:
2071A Cressman Road
Schwenksville, PA 19473
Phone: (610) 584-1250
Fax: (610) 410-2610
Fire Department
The WVFD has been a very dedicated part of our community, and has been serving since 1959. It is an all-volunteer organization and is continually looking for committed people who are willing to serve as firefighters, fire police, support personnel or as members of the "Ladies Auxiliary." If you are interested in assisting the community, please email join@worcesterfd.com or stop by on a Thursday night between 7:00 & 9:00 during a department training. Find out what it is like to be a part of the team here.
Mailing Address:
Worcester Volunteer Fire Department
Post Office Box 1, Worcester, PA 19490
Physical Address:
1725 Valley Forge Road
Worcester, PA 19490
Phone: (610) 584-5159
Kno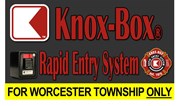 x Boxes provide first responders with secure access to structures in the event of a fire or other emergency. Knox Boxes installed in Worcester Township must be ordered on-line. For more information on ordering  and installing  a Knox Box, please click here.
Animals & Wildlife Emergencies
The Pennsylvania Game Commission is responsible for managing all of Pennsylvania's wild birds and mammals (i.e. rabid and deceased animals). The Game Commission also collects deceased wild animals from County and Township-owned roads (PennDOT collects these dead critters from State-owned roads). 
PennDOT Dead Deer Removal in Right of Way
Pennsylvania Game Commission Regional Office
253 Snyder Road
Reading, PA 19605
(610) 926-3136
Montgomery County SPCA 
(610) 825-0111
The SPCA provides services for stray, lost, found or neglected animals. They will also pick-up confined, immobile and abandoned domestic animals.
Montgomery County Dog Warden
(717) 418-0284
Area Ambulance Services
Four ambulance companies serve Worcester Township. Each company provides service to a specific area of the Township. Ambulance company information, and the service area of each company, are noted below:
Ambulance Service Coverage - Monday- Friday 8AM-4PM- Updated January 2022
Ambulance Service Coverage- All Other Times- Updated January 2022
Lower Providence Community Center Ambulance-322
10 Parklane Drive
Post Office Box 8
Eagleville, PA 19408
Non-Emergency Phone: (610) 539-8465
www.medic322.com
Plymouth Community Ambulance Association- 308
902 Germantown Pike
Plymouth Meeting, PA 19462
Non-Emergency Phone: (610) 277-2776
Fax: 610-277-8449
www.plymouthambulance.org
Volunteer Medical Service Corps of Lansdale- 345
175 Medical Campus Drive
Lansdale, PA 19446
Non-Emergency Phone: (215) 855-3779
http://www.vmsclansdale.org
Skippack Emergency Medical Services- 336
4058 Mensch Road
Post Office Box 59
Skippack, PA 19474
Non-Emergency Phone: (610) 454-9665
skippackems.org
Area Hospitals
Einstein Medical Center-Montgomery
559 West Germantown Pike
East Norriton, PA 19403
Phone: (484) 622-1000
montgomery.einstein.edu
Phoenixville Hospital
140 Nutt Road
Phoenixville, PA 19460
Phone: (610) 983-1000
phoenixville.towerhealth.org
Suburban Community Hospital
2701 Dekalb Pike
East Norriton, PA 19401
Phone: (610) 278-2000
mercyhealth.org
Abington Lansdale Hospital
100 Medical Campus Drive
Lansdale, PA 19446
Phone: (215) 368-2100
www.ahlansdale.org